Welcome to Arbitration Resolution Services
Are you seeking a swift and cost-effective resolution to your disputes without the hassle of costly litigation and courtroom battles? Our alternative dispute resolution platform can provide you with a convenient and efficient way to settle disputes and reach mutually beneficial and fair outcome.
Our Proprietary Platform
The Arb-IT cloud-based platform fully automates the step-by-step process of mediation and arbitration utilizing a proprietary, cutting-edge legal solution that integrates easy-to-use technology based on unparalleled process and design standards, coupled with our expert arbitrators and mediators for a revolutionary approach to dispute resolution.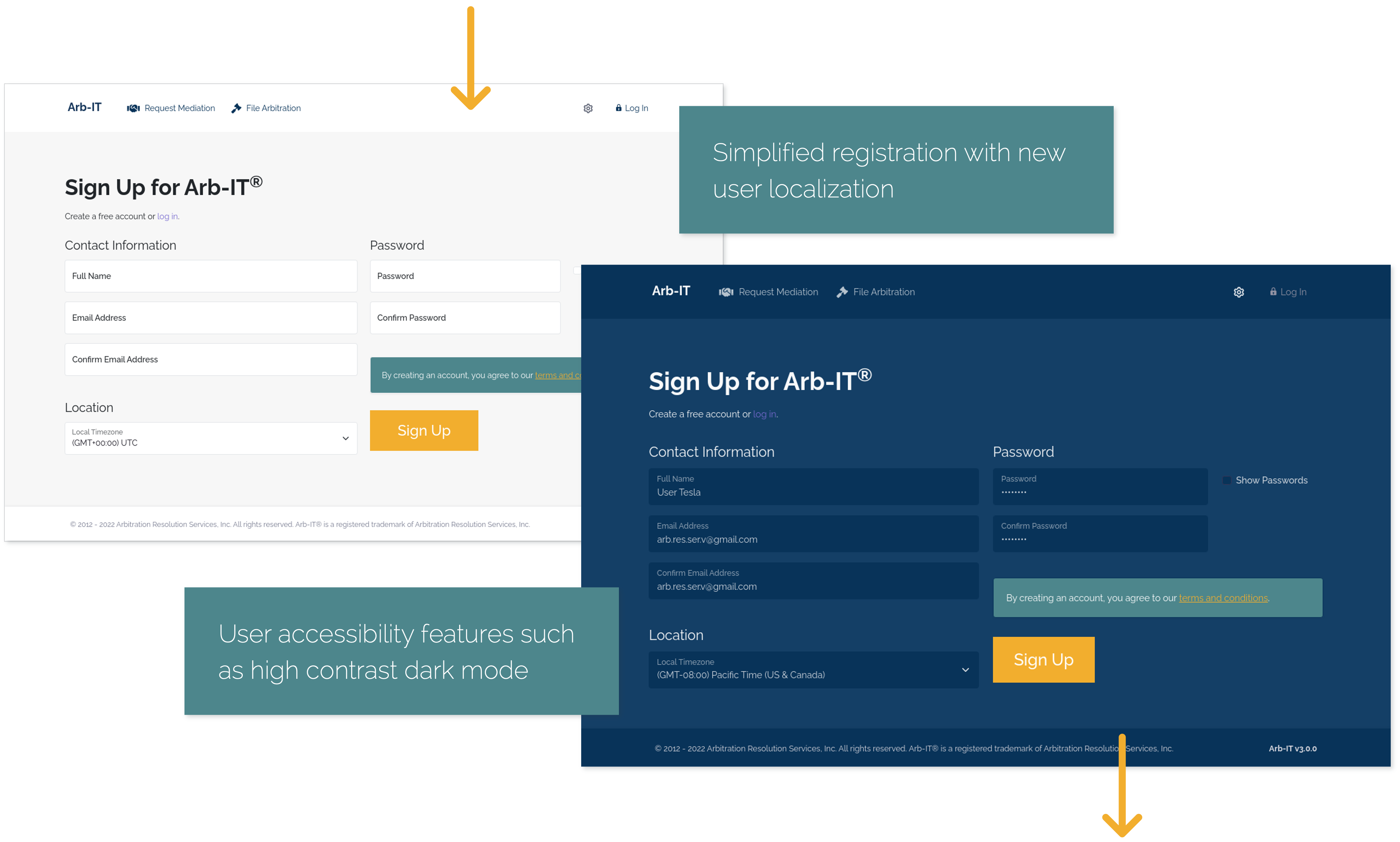 How the Arbitration Process Works
Our experienced team of industry experts have designed a straightforward process to help you resolve disputes privately, quickly—in weeks not months—and affordably— savings up to 80% over the cost of litigation. No in-person; 100% virtual, secure and cloud-based convenience. Click on a step to explore the process below.
1. Application
a. Initiate your claim
Select mediation or arbitration to resolve your dispute. Complete a single short-form confirming your information as the applicant, describing the basic claim and identifying the responding party or parties. All in a matter of minutes!
b. Provide detailed claim information and evidence
Complete the simple claim detail form and request an optional hearing. Gather your supporting documents, photographs and other evidence and upload them using our secure file uploader. When you're ready, submit the claim.
c. Pay the application fee
An invoice is generated based on the claim amount and options selected. Pay the invoice securely using the payment method of your choice.
Speed
90 Days
Average case length vs. 17.4 months for traditional arbitration.
Savings
Up to 80%
Potential savings vs. the cost of traditional litigation.
Privacy
Total
No public courtrooms – just a discreet, secure online process.
Convenience
100% Virtual
No in-person hearing. Access our services from anywhere, at any time!
Experience
15 Years
Aeverage years of experience for our highly skilled and knowledgeable legal professionals.
Cost-effective
$375 Fee
Application fee for disputes up to $15k. Hearing fee starts at $375 per hour.
What are the costs?
Arbitration
Graduated fee structure is reasonable for small or large cases.

Audio or video hearings available for an additional fee.
Mediation
Flat application fee.

Audio hearing standard.

Video hearing available for an additional fee.
Arbitration
B2B + B2C + C2B
---
Claims up to $15,000
Applicant Fee

$375

Respondent Fee

$375
Optional
Hourly Hearing Fee

$375

Appeal Fee

$1,750

Appeal Response Fee

$750

Clerical Review Fee

$100
Mediation
B2B + B2C + C2B
---
All Claims
Applicant Fee

$450

Respondent Fee

$450

Hourly Hearing Fee

$375
Ready to Resolve Your Dispute? Get Started Now!
Don't let conflicts linger. Take control of your situation and embrace a quick resolution with our alternative dispute resolution platform.